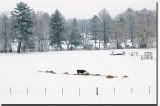 Falling snow.
Light breeze -- cold going into it, toasty warm going with it.
Wet roads. Robins. Redwing blackbirds fill the air with their chirpy buzz.
Leaves of daffodils and tulips show through the deepening snow cover.
Quiet farm road. Weatherbeaten sheds.
A lone black cow drinks from a pond, misty through the foggy snow.
No camera.
Maple buds.
Silent solitude but for falling snow and the echo of a dog barking.
Wood smoke curls from chimneys.
Hills.
Pink fleece top with icy snow-covered front.
Companion dog with slush-frozen underside, gambols through covered grass.
She tosses up tufts of the fun white stuff.
Almost 12 miles. Under 2 hours.
Done.
Now I am cold.
Hot shower.
Warm clothes.
Now I'm sweating.
Dinner is in the crock pot.
Smells wonderful.
I'm hungry.
I'm tired.
I'm happy.