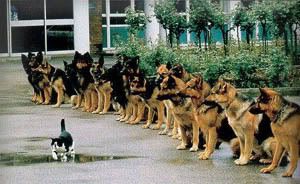 Early in January, I made public my "
New Year's Resolution
" to conquer fear: my fear of making mistakes, of being embarrassed, of making people mad at me, etc.
I want to share a couple insights I've had.
Number one:
It's a
contol issue.
I want to be in control of people's reactions to me. If I can execute some kind of flawless performance, I can keep people from reacting negatively to me or to anything I do. This is a way of protecting myself from disapproval or any kind of retribution.
One of the fear-related things I do is to put myself down. I tell people ahead of time, before I can screw up, that I screw things up. And when I do make some kind of mistake, I call myself names like "stupid," "incompetent," "airhead," "senile," "blonde." And I've discovered that the reason I do this is, if I say it first, it keeps someone else from saying it.
Number two:
It's a result of
perfectionism
. Being upset at mistakes means, I should be able to do it perfectly. Not knowing something -- I should know everything. Forgetting something -- I should remember everything. Being wrong -- I should be right. Mentally shutting down when I don't know, or don't remember, or messed up --- if I can't do it perfectly, I'm going to cease to function.
Like..... do I think I'm God?????