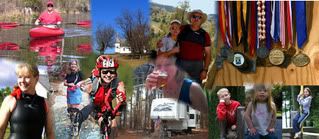 Several people have asked me, so here's the quick-and-easy explanation. (The explanation, not the process, is quick and easy, LOL!)
Basically, I stitched photos together in Photoshop Elements, uploaded the result to Photobucket.com, then pasted the HTML tag into my template under "Head."
It took a lot of trial and error to get it right. I had to do a lot of resizing and moving images around to get them to fit together (like a puzzle, it was fun) and there are still a couple of mistakes -- like Abbie's head poking up into the picture of my medals. I have some new pictures I might want to add so I may be messing with it some more.
I had put up a longer post about this, but then thought maybe that wasn't what people wanted, maybe they were just asing a question, not asking for step-by-step instructions. So here is the new abbreviated version. If you would like the blow-by-blow, let me know and I'll email you the long one.
OR..... what I should REALLY do is say, "Send me your pictures and I'll make you one for a price!" :-D But I'm such a good blog friend, I'll just tell you how...
OR.... if you don't want to do it yourself..... I'm no HTML wizard but I could give it a shot. Here's my email address:
ehmltn@hotmail.com
What the hey, nothing ventured, nothing gained.