We had everyone together at son Jon's house, except our youngest daughter Avery's husband Scott, who had work conflicts. Our get-together was Saturday after Thanksgiving, the most do-able for the most people. Daughter-in-law Jamie had worked all night (NICU nurse) ans spent the day sleeping at her mom's, but came over later in the afternoon.
It's rare to have all 4 generations together, every single one of my mother's direct descendants.
The oldest and youngest of our clan: My mother, Ellinor Benedict, 85, and our granddaughter, Abigail Hamilton, 3 yrs. 10 months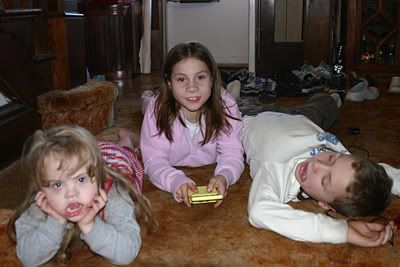 Our three grandkids being goofy: Abbie; Gracie, 8; Collin, 10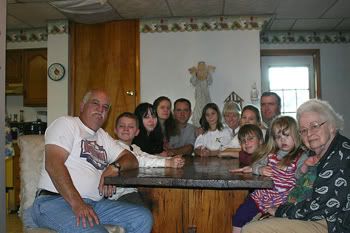 The whole family!
Left to right:
My husband Steve; grandson Collin Clevenger; daughter Avery Elefante; daughter-in-law Jamie Hamilton; son Jon Hamilton; granddaughter Grayson Clevenger; me, Ellinor Hamilton; daughter Valerie Hamilton; Val's husband Anthony; Anthony's son Bradley; granddaughter Abbie Hamilton; matriarch/mother/grandmother/great-grandmother Ellinor Benedict
And as if a humongous turkey dinner topped off with 2 kinds of pie, 3 cousins to play with, and all her family together (Abbie LOVES her family, especially her grandpa and her great-grandmother), here is what her daddy found in their garage after dinner.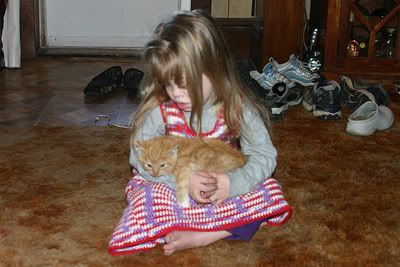 He had seen a stray cat in there a couple times but had no idea there were offspring. For an almost-4-yr-old, Thanksgiving doesn't get any better. His name is Walrus -- Abbie's new word of the week. Walrus hissed and spit and bit when Jon caught him, but calmed down remarkably within just a few minutes. After some tuna, which he gulped like a dog, he got a bath, a nap wrapped in a warm towel, and then was deemed fit to play with. Within a couple hours after capture, he was purring in our laps and playing with strings the kids dragged for him.
Thanksgiving is about so much more than the food. Although that was good, too...