Remember to be hospitable to strangers, for you never know who you're entertaining unawares.
This morning at work at the campground office, I was talking to my mom on my cell phone (slow day at the office) and told her, "Oops, gotta go, got a customer coming. He's dressed for running. He's got awesome thighs." She laughed and wished me luck and I hung up.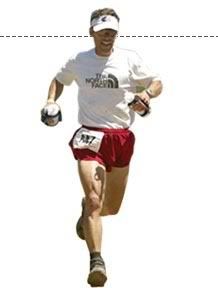 The man brought in a little bag of garbage and asked where the dumpsters were. I told him, but said, "That's small, just give it to me, I'll throw it in the trash can right here," which he did, and I did.
"How far you running today?" I asked. "Oh, 20 or 30 miles I guess," he said. "Great!" I said. "What are you training for?" He said, "Actually I'm running across the United States."
"Cool!" I answered. "So you're almost done?"
"No," he said, "I'm just starting."
"You're going east to west against the prevailing winds in late fall at this latitude? You're going to have fun when you get to Colorado!" We both laughed and he said he hoped Colorado wouldn't be too bad.
So he says, "You must be a runner. You didn't go blank or do a double take when I said how far I was running." I lifted my M-Dot Florida mug in a toast gesture and took a sip of my coffee. "Great, congratulations!" he said. "I barely survived, but it was fun," I observed. "I haven't run since, but I might go out today."
Then he says, "I just took a break from my trip, flew down to Texas, and did a 24-hour ultra. Plus I just finished running 50 marathons in 50 states in 50 days."
"Awesome!" I said. "I want to do all 50 states. Except I don't think I'll make it in 50 days :-) Another thing I want to do is cross the country, not on foot but on a bike, Pacific to Atlantic."
"That's a great goal," he said.
"You better go run, you've got goosebumps on your thighs," I said, thereby letting the cat out of the bag that I'd been ogling his thighs.

He laughed. "Well, we gotta break camp first.... my dad is driving the camper, he's my support crew."
"Well, good luck!" I said, and he said, "You, too!" and he left. I watched them disconnecting their utility hoses getting ready to leave. Another customer came in. "See that rig leaving?" I said. "The guy was just in here.... he's running across the country east to west on Rte. 50." "Hmph," said the man. "Wonder if he knows what he's getting into as he gets into West Virginia and Western Maryland. I hear they've had snow in Garrett County already, and you know what the hills are like out there."

I was wishing I'd given the runner guy my email address so he could let me know when he got there, like the guy I met on the bike trail last summer. I was wishing I'd had my camera so I could email his quads to my friends.
So I told some of my email friends, including
Nancy
, about this encounter, and told them they missed some great quads. Nancy emailed me back, "Uhhhhhh, Ellie.... did he look like this guy? (Gave me
this link
) Dean Karnazes????" I emailed back, "Yeah, that was him!
I just put his registration info in the campground computer this morning!" So then I went to the link to see who he was.
Geez.

Dean Karnazes.
I guess every runner in the world except me knows about him. He has a blog (actually several) and I left a comment on
this one
. On his
Daily Archives
page, you can see that he was staying in Winchester, VA (except they listed it as WV.) That was before he left for the ultra in TX and he just got back yesterday. That was here! That was Candy Hill Campground, Winchester, VA! I threw away his trash for him!

I'm glad I had my eye makeup on :-)